Shenzhen Service Trade Association, Shenzhen Sanma Technology Group Spring Festival Association
---
---
Shenzhen Service Trade Association and Shenzhen Sanma Technology Group Yingchun Association were held in the village restaurant of Shenzhen Guanlan Landscape Village. Mr. Liu Zheng, Chairman of the Group, Mr. Liu Haoming, Vice Chairman of the Board, and Mr. Xie Xiaoyu, President of Shenzhen Service Trade Association attended the Friendship Association.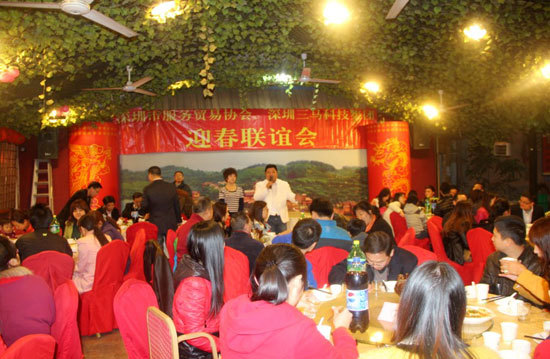 The theme of our activities is "to relax, to participate, to celebrate the festive season, to enhance the relationship, to promote unity";
Under the careful arrangement of the company's office, the association will be well-organized, and hundreds of San Ma staff and family members will participate in the whole scene.
18 o'clock is the time for our feast. At the banquet, all the staff of Sanma surged in the big family of Sanma Group. The family and everything went through the exchange of true feelings and affection, which set up a communication bridge between enterprises, employees and family members. Employees & ldquo; small family & rdquo; interaction with the business "everyone", the selfless dedication of countless small families will hold up the Sanma Group a better tomorrow.
---