Sanma Ronghe [electrolytic capacitor] patent
---
---
Patented product details:
  Electrolytic capacitors are accompanied by the electrolytic process of ionic movement during the charging and discharging process, so the capacitance is large. At present, it is difficult to find a capacitor of the same volume to replace it. However, there is electrolyte in the electrolytic capacitor, and the volatilisation of the electrolyte decreases or dries up, which will make the capacitance become smaller or even invalid. Electrolyte capacitors in the electrolyte, in fact, is its cathode, if there is no electrolyte, of course, the capacitor can not charge and discharge.
  Existing electrolytic capacitors are generally not highly sealed. Because of charging and discharging the electrolytic process has a certain amount of gas, but also produces heat so that the capacitor temperature rises, so that the electrolyte produces steam, these gases such as when discharged, will lead to an explosion. Therefore, the general electrolytic capacitors are equipped with explosion-proof marks on the top.
  Existing electrolytic capacitors can not be sealed, so its preservation and use of the process, the electrolyte will continue to reduce until dry, so that the capacitance continues to decrease until complete failure. More seriously, electrolytic in the working process will produce heat, and make its internal temperature rise, the electrolyte will produce steam, will form a higher internal pressure, discharge steam once the capacitor stops energised, its internal cooling down, will suck in air, and air contains moisture, thus causing leakage current increase or even short circuit. Therefore, a high degree of sealing is an important condition to solve the stable performance and service life of electrolytic capacitors.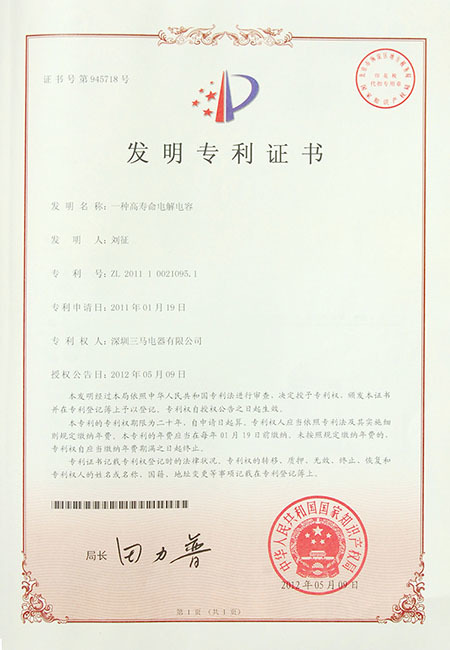 This invention "high life aluminium electrolytic capacitor" is a highly sealed and equipped with a pressure reduction device, effectively solving the problem of increasing current after the electrolyte continuously reduces and absorbs water, thus greatly improving the life and stability of electrolytic capacitors. The capacitor is suitable for all electrical and electronic equipment, especially for aerospace, aviation, LED street lamps and air-conditioning outdoor units.
---